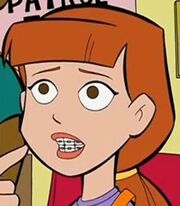 Braces Girl
 (real name unknown) is a
Fillmore!
character, an X Middle School student and a minor member of the school's Safety Patrol.
Appearance
She is a teen, Caucasian girl, with reddish-orange hair with a fringe, worn in a ponytail and a yellow hair band around it, has brown eyes, and wears dental braces. She wears a long-sleeved purple shirt and as a member of the Safety Patrol, she too wears an orange sash over it, goldenrod pants and cyan, and white sneakers.
History
Not much is known about her, but it seems that she is another investigator of the Safety Patrol. This is confirmed in [1], when it was mentioned that somebody would have to go undercover as part of that episode's titular girl scout troop and one requirement was trying out the candy, particularly one of the stickiest. She had a brief role when she declined, stating "I'm out. I can't go near taffy", needless to say. It seems she also doubles as a crime scene photographer, as seen in one episode. 
Notes
Her dental braces cause her to speak with a slight lisp.
She is voiced by Debi Derryberry.
Case File
Safety Patroller, Investigator, Crime Scene Photographer
Trivia
Her Birthday is either December 1989 or January 1990.
References
↑

Red Robins Don't Fly
Ad blocker interference detected!
Wikia is a free-to-use site that makes money from advertising. We have a modified experience for viewers using ad blockers

Wikia is not accessible if you've made further modifications. Remove the custom ad blocker rule(s) and the page will load as expected.