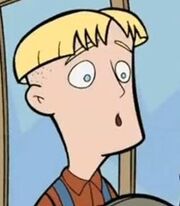 Crockett
 is a Macluhan Middle School student. He is voiced by Thomas Dekker.
[1]
History
Crockett appears in [2]. He wants to show his gratitude to Wayne for saving his harvest. Wayne tells him to think nothing of it, but he insists. Crockett gives him a new set of comic books as an appreciation gift.
References
↑

South of Friendship, North of Honour
Ad blocker interference detected!
Wikia is a free-to-use site that makes money from advertising. We have a modified experience for viewers using ad blockers

Wikia is not accessible if you've made further modifications. Remove the custom ad blocker rule(s) and the page will load as expected.