---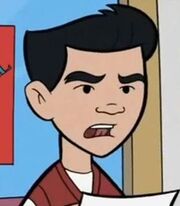 Derek Minna
is an X Middle School student.
After scooter thefts began at school he established BAGAST, or Boys And Girls Against Scooter Theft, to act as a scooter- and rollerblade-equipped task force with which he intended to ultimately replace the Safety Patrol. Eventually the investigation revealed he was the mastermind behind the thefts known as "Stingray".
Ad blocker interference detected!
Wikia is a free-to-use site that makes money from advertising. We have a modified experience for viewers using ad blockers

Wikia is not accessible if you've made further modifications. Remove the custom ad blocker rule(s) and the page will load as expected.