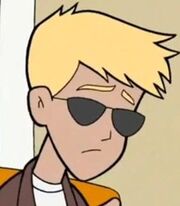 Dimitri
is an X Middle School student. He is voiced by Michael Welch.
History
Dimitri is friends with Eric Orben and Sanjey, and their friendship goes back to kindergarten. In Field Trip of the Just, he, Sanjey and Eric Orben are seen in the school's hallway through which Linwood is passing. Sanjay distracts Linwood by flicking a coin onto the floor. Linwood notices the bait and goes for it. Sanjay then strikes Linwood from behind with a spitball, Dmitri knocks out a book from Linwood's grasp and Eric takes his pic. Unlike Eric, Sanjay and Dmitri are underachievers.
Ad blocker interference detected!
Wikia is a free-to-use site that makes money from advertising. We have a modified experience for viewers using ad blockers

Wikia is not accessible if you've made further modifications. Remove the custom ad blocker rule(s) and the page will load as expected.