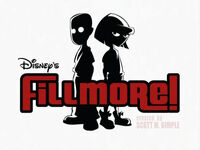 Fillmore! is an American animated television series which was produced by Walt Disney Television Animation. The show was created by Scott Gimple.
Cornelius Fillmore (voiced by Orlando Brown) is a reformed juvenile delinquent and the show is based around him and his partner Ingrid Third (voiced by Tara Strong). As part of the Safety Patrol at X Middle School, Fillmore and Third solve crimes. X's safety patrol is much more actively involved in student behavior than a typical school's safety patrol. The role students play in solving crimes makes the safety patrol similar to a children's CSI. The series usually presents child-friendly versions of common crimes, such as stolen scooters instead of cars, smuggling tartar sauce instead of drug smuggling, and holding illegal frog races instead of illegal street races.
Ad blocker interference detected!
Wikia is a free-to-use site that makes money from advertising. We have a modified experience for viewers using ad blockers

Wikia is not accessible if you've made further modifications. Remove the custom ad blocker rule(s) and the page will load as expected.