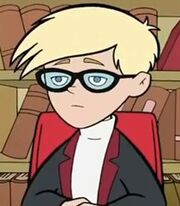 Frankie Polk
 is an X Middle School student on the
Fillmore!
TV series, with an affinity for painting and sketching, and as such, is president of the Art Club. He is voiced by Lukas Behnken.
[1]
History
One of his recurring roles is in [2], when he and two other art group members are considered persons of interest by Fillmore and Ingrid or they're suspected by them of marring the restroom's stalls. The Art Club was originally held in a room that was then turned into an office that's now owned by Robin Spencer. Frankie doesn't like holding club meetings there, as he finds the surrounding stifles his creativity. It turns out that he loves to draw toilets and he was caught by the two safety patrollers sneaking into the girls' room to do just that.
[3], he is seen in the auditorium as a contestant in macaroni art. His entry is a huge statue of Principal Folsom, made of macaroni. After the statue is sabotaged, he's then seen in the Safety Patrol Headquarters. It seems that there are two different kinds of brands of macaroni that were used, one of which he says he doesn't use.
Gallery
References
↑

To Mar a Stall

↑

In This Savior, A Snitch
Ad blocker interference detected!
Wikia is a free-to-use site that makes money from advertising. We have a modified experience for viewers using ad blockers

Wikia is not accessible if you've made further modifications. Remove the custom ad blocker rule(s) and the page will load as expected.