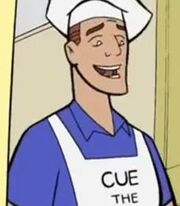 Mr. Almaden
is
Lorraine Almaden's
father.
Mr. Almaden is first seen when Fillmore Fillmore and Third Ingrid head to the Almadens' house wanting to see Lorraine for questioning. When informed she was not there, they asked him some questions about her instead. However the safety patrolling duo were able to literally catch her when she did return later and following a chase.
Everett Konquist and Lorraine both happened to be neighbors and have single parents. It was never explained or mentioned whether each of their parents were divorced, separated, or widowed.
Notes
He is voiced by Steven Weber.
References
Ad blocker interference detected!
Wikia is a free-to-use site that makes money from advertising. We have a modified experience for viewers using ad blockers

Wikia is not accessible if you've made further modifications. Remove the custom ad blocker rule(s) and the page will load as expected.