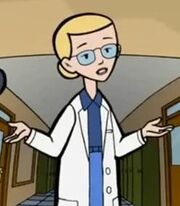 Mrs. Waverly
[1]
 is an 
X Middle School
 teacher.
Appearance
She is a caucasian woman with blonde hair in a bun to the back of her head, has beady, black eyes, wears square glasses, lab coat, dark blue shirt with folded collar, light blue skirt.
History
When Fillmore and Ingrid exit the library and head into the hallway while pursuing Noah Hawthorne she appears briefly[2]. Asking if either of them has seen a missing book of hers. Prior to that, she was also among the crowd seen at the baking contest held in the cafeteria, who then flee when some batter overflows and floods the lunchroom, which Mr. Geary recounts as a contestant in a flashback.
Notes
References
Ad blocker interference detected!
Wikia is a free-to-use site that makes money from advertising. We have a modified experience for viewers using ad blockers

Wikia is not accessible if you've made further modifications. Remove the custom ad blocker rule(s) and the page will load as expected.