---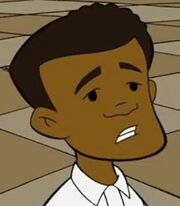 Nick Baker
is an Eight grade X Middle School student. He is a former delinquent, infamous for scribbling over pictures, e.g. colouring the teeth in a picture black.
As punishment, he had to do community service at the Modern Contemporary Natural History Museum of Art, Science and Miniatures. There, he befriended the security guard Leonard Grahand and learned a lot about true art. He enjoyed this place so much that he continued to work there even after his service time ended. For his good work, he eventually got an appreciation formular by curator Simon Prosper and a party thrown in his honor.
He thought it was very unjust, when Leo was forced into retirement. But after it turned out that Leo had violated the Lobsterman painting out of spite for the museum, Leo told him how much his work had meant to him and still did.
After the events at the museum, he went to the patrollers to give them a farewell present from Leo: a smaller signed version of the Lobsterman at Port.