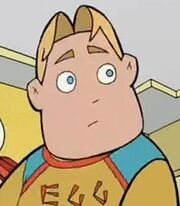 Seth Crissie
 is an X Middle School student.
Seth was suspected of stealing the Satty-9 tests during the investigation to find and recover them[1]. Fillmore and Ingrid wanted to interview him but he made a run for it. It was later determined he did so only because cheated in the test and thought that was why they were after him.
References
Ad blocker interference detected!
Wikia is a free-to-use site that makes money from advertising. We have a modified experience for viewers using ad blockers

Wikia is not accessible if you've made further modifications. Remove the custom ad blocker rule(s) and the page will load as expected.