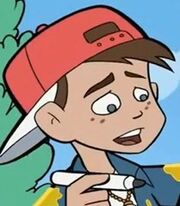 Tommy Howard
is an X Middle School student. He is a member of the school's Alternative Art Club.
As member of an art club, Tommy and the rest of the members were possible suspects of tagging the school's toilet stalls[1] because their meeting room had been reassigned, which left their club without a place to meet.
Notes
He is voiced by Josh Uhler.
References
Ad blocker interference detected!
Wikia is a free-to-use site that makes money from advertising. We have a modified experience for viewers using ad blockers

Wikia is not accessible if you've made further modifications. Remove the custom ad blocker rule(s) and the page will load as expected.